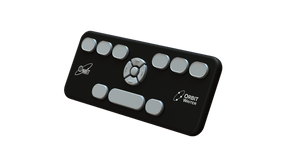 Orbit Writer is The Perfect Companion for your Smartphone.
The Orbit Writer weighs less than a hundred grams and is smaller than modern smartphones, allowing it to fit easily in a pocket or purse. Despite its compact size, it provides an ergonomic Perkins-style braille keyboard. and also includes a cursor keypad for navigation and complete control of the smartphone or computer without using gestures.
The device connects to computers and smartphones over Bluetooth or USB, providing an instant, seamless connection. It can connect to 5 devices simultaneously over Bluetooth and to one more over USB and allows switching between devices with a simple key combination. High-quality scissors keys provide smooth and quiet operation with positive tactile feedback. Haptic (vibration) feedback is also provided for status indications.
Works with all smartphones and computers out of the box
Seamless, instant connection
Ultra-compact design easily fits in the pocket or purse
Ergonomic Perkins-style braille keyboard
High-quality scissors keys for smooth and quiet operation with positive tactile feedback
Navigation keys to control your smartphone or computer with intuitive key combinations. No need to use touch gestures
Works with iOS, Android, Windows, Mac OS, Fire OS, Chrome OS and Linux devices

Read and send messages and emails

Browse the internet and social media

Control your smartphone or computer

Simultaneous connection to 5 devices over Bluetooth and one over USB; switch with hotkey combinations
Support for all languages available on phones and computers
Fast-charging long-life battery

Over 3 days of operation

Charge in under 2 hours

Lightweight but rugged construction

3.2 oz, 6.3 x 2.6 x 0.3 inches

90 grams, 16.0 x 6.5 x 0.8 cm

Haptic (vibration) feedback for actions and settings
Attachment points for a strap or lanyard

Comes with a USB charging cable