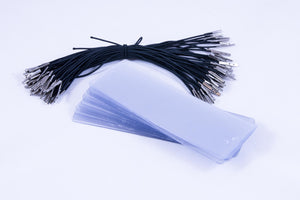 Avoid freezer burn forever with these brailleable labels which attach to your items in the freezer.
* Create your own multi-line labels and use them again and again
* The labels are made of plastic, which can be brailled on
* Labels have a hole at each end
* To use, slide the end of one of the included elastic bands into each end of a label. Use the band to secure the label around items in your freezer. Stretch the band slightly to remove labels from products when you are ready to eat the deliciousness.