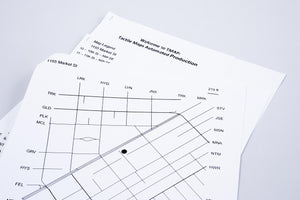 How can someone without eyesight learn a city block or navigate a new neighborhood? In 2018, the LightHouse introduced TMAP: Tactile Maps Automated Production, offering on-demand tactile street maps.
Covering an area of several blocks surrounding a given address, TMAP uses both braille and large print to identify streets, represented by crisp, raised lines that can be easily followed with the fingertips.
What's in the package?
You will receive two maps of the same address, a zoomed-out overview map, and a zoomed-in detail map showing streets, paths, and buildings, if the data is available
A tactile map key
An introductory page
All materials are printed on 11" X 11.5" sheets of embossed paper and include ink / large print labels in addition to braille
Learn more about the MAD Lab where these maps are produced.
TMAP is a collaboration of the LightHouse for the Blind and Visually Impaired, and the Smith-Kettlewell Eye Research Institute.
TMAPs are non-refundable - we cannot accept returns on TMAPs.