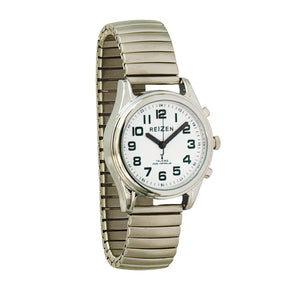 Enjoy the convenience of a watch that announces the time and even sets itself, as well as a sleek, stylish design with an easy to see face that's appropriately sized for people with smaller wrists.
Watch features spoken announcements of bot the date and the time
Sets itself automatically using a radio signal
1.125-in. diameter traditional white analog face with bold black numbers and hands.
In the USA, the Reizen Talking Radio-Controlled Analog Watch receives a daily signal from the NIST Atomic Clock in Colorado, the nation's timekeeper, ensuring accurate time and even accounting for Daylight Savings changes, so you never have to set your talking watch!

Note: The radio-controlled function will work only in the USA (except Alaska and Hawaii), the UK, Germany and Japan. When outside these areas, the talking watch can be set manually to reflect the correct time on the analog face, but the announced time will not accurately update.

Battery Type: CR2032