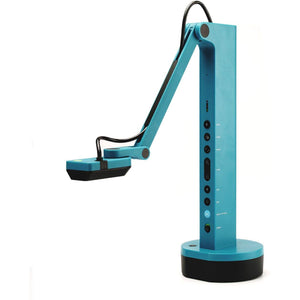 IPEVO VZ-X is a document camera that features three connection modes Wi-Fi, HDMI, and USB. They allow you to stream real-time images to your computer, iOS/Android devices, Apple TV, projector, TV, or monitor, depending on your needs. You will still be able to connect to a computer using USB, or a projector or monitor With HDMI directly. Connect to VZ-X wirelessly to make the camera portable so you have the freedom to move about during your lesson or presentation. The camera has superior focusing speed, noise reduction under low-light conditions, and reproduction of colors. This means you can give your presentations without worrying about disruptions, distortions, or latency, even in dimly-lit environments. HDMI cable and power adapter not included.

* The 8 MP Camera in Wi-Fi and HDMI mode captures images in high definition (1920 x 1080), and in near 4K quality in USB mode (3264 x 2448). video Recording in HD (1920 x 1080 @ 30 FPS). connect to a computer, iOS/Android device, Apple TV, projector, TV, or monitor.
* Built-in LED illuminates the shooting area. Max shooting area: 11. 14" x 19. 72" (283 x 501mm) [16: 9], 14. 29" x 19. 01" (363 x 483mm) [4: 3]
* Performance boost with Sony CMOS image sensor and Amarelle integrated system-on-a-chip (Sock) translates to faster focusing speed, better noise reduction under low-light conditions, and excellent reproduction of colors.
* 9-12 hours of battery life ensures a complete Class or presentation Session without interruptions. Up to 33-feet of wireless range allows teachers and presenters mobility to capture different objects all over the room.
* Designed and made in Taiwan. Swiveling head, Multi-Jointed stand, and small footprint allow you to capture freely from different height, angle, and orientation. Buttons conveniently located on vs.-x's body enable you to adjust real-time images instantly.