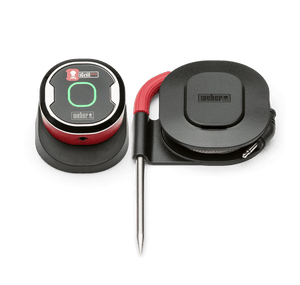 Do you love to entertain and would like an easier way to monitor the temperature of your dishes as they cook while spending time with your guests? This bluetooth cooking thermometer pairs with your smartphone, is wonderful for making everything from food on the BBQ, to casseroles in the oven or tempered chocolate on the stove top.
* The insulated cable connecting the probe to the small, magnetic bluetooth unit can withstand high levels of heat, making this the perfect accessory for keeping track of the temperature of something in the oven or outside on the grill
* Monitor temperatures from anywhere around your home by using the iGrill's bluetooth connection to your mobile device, iPad, or computer
* Get notified through the app when your food reaches a certain temperature. Who knew cooking could be so much fun?