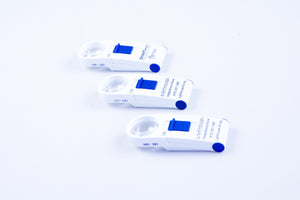 These Mattingly Advantage handheld magnifiers with an LED light come in a variety of magnification strengths and are small enough to take with you on the go or use with a stand (sold separately) for hands-free use.
* Lens is 10x magnification
* LEDs give long battery life and a clear consistent light
* Uses 2 AA batteries.
* Cloth storage pouch included
* Durable, reinforced, high-contrast blue switches with white mounting and handle
Note: Image depicts three magnifiers - a 10x, a 12x, and a 14x. Only one product is included with this purchase.