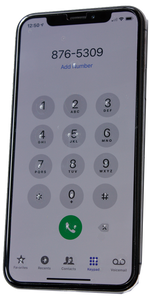 Tired of fumbling with the keypad on your iPhone when trying to make a call? This tactile screen protector can make dialing the phone much easier.
* This screen protector not only protects your phone from scruff and scratches, it also adds tactile markings to the screen.
* Bump dots are on the screen protector in the position of a telephone keypad layout for those specifically looking for dots to line up with the phone's keypad
* The screen protector fits Apple iPhone. Choose your phone model from the dropdown menu.