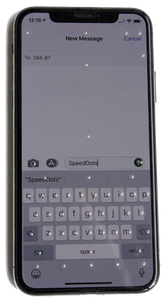 This clear, plastic iPhone screen protector (Standard Model) protects your screen from scuffs and scratches with added bump dots to assist in using the phone while in VoiceOver mode.
* This iPhone case has SpeedDots which are tactile, placing single dots in several key locations where we frequently find buttons and controls on our iPhone screens
* The Standard model places a single dot on each of the virtual keys, with the exception of the letters F and J, which have been left blank. This makes them even faster to locate quickly when typing.
* The screen protector fits Apple iPhone. Choose your phone model from the dropdown menu.